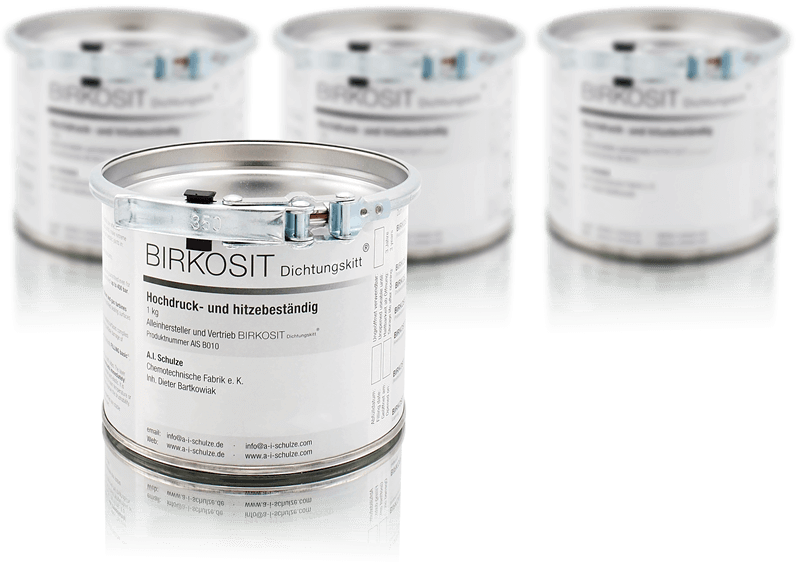 Sealing compounds used to join metallic elements in industry are subject to extreme demands due to the high temperatures and/or high pressure.
BIRKOSIT Dichtungskitt® can be relied upon to meet the relevant requirements.
BIRKOSIT Dichtungskitt® is a single-component sealant with the consistency of paste which is reddish-brown in colour and retains permanent elasticity.
BIRKOSIT Dichtungskitt® ist gegen Heißdampf, Luft, Wasser, Kühlmittel, Öle, Schmierstoffe und chemische Gase mit Temperaturen bis zu 900 °C beständig.
A 100% seal at pressures of up to 250 bar is guaranteed on sealing surfaces and joints. A pressure resistance of up to 450 bar is guaranteed for flanges without sealing rings and up to 550 bar for threaded connections. The pressure resistance implies process-related vibrations.
BIRKOSIT Dichtungskitt® is primarily used in steam turbines, gas turbines, compressors, generators, expanders, pumps, valves, gear units and marine engines.
BIRKOSIT Dichtungskitt® is suitable for use on sealing surfaces of all sizes. Any machined or prepared surfaces with damage to sealing surfaces of ≤ 0.2 mm can be treated with BIRKOSIT Dichtungskitt®.
Where products are required to fill isolated cavities of ≥ 0.2 mm to 1.0 mm we can recommend FILLING basic®, FILLING 1000® and FILLING 2000® for use.
The tin should be brought to room temperature before use to make the product easier to apply and spread. Alternatively, a tenth part of boiled linseed oil from our range can be added.
A layer of BIRKOSIT Dichtungskitt® is applied with a brush or spatula on both sides of the dry sealing surfaces to a thickness of 0.2 mm to 0.3 mm. The joint can be subjected to load immediately. BIRKOSIT Dichtungskitt® is sufficiently flexible to allow subsequent alignment work to be carried out on the connection. It has an unlimited assembly time.
When the product is used as intended and as instructed, we can guarantee a service life of 10 years.
The product is supplied in 1 kg tin cans. When stored correctly, BIRKOSIT Dichtungskitt® will keep in the unopened tin for 5 years.
After opening, we guarantee a shelf life of 3 years if the tin is closed properly.
Product data sheet last revised 01.03.2021